Thu, 30 April 2015
041 Diane Paddison | Achieve Your God-Given Potential
Click Here for the blog post and resources from this episode
"Our real vision…is that we will help women—through God's hand leading us—see that their faith should be a part of every minute of every day, that their relationships should be their priority, and that their work is a place God has called them to be." –Diane Paddison
At the age of sixteen, Diane Paddison was leading crews of eighty people on her family's Oregon farm. As an adult, she was often the sole woman in Fortune 500 and 1000 boardrooms. Diane realized the crucial importance of a mentor early on, and now pays it forward mentoring countless women through her website 4wordwomen.org and her book, "Work, Love and Pray."
Through trials of her own, Diane learned how to pray fervently, stay grounded in God's Word and surround herself with a support system of women who were fellow believers. She also went through the "Half Time" system, where she realized that God had prepared her with her experiences professionally and relationally, with a firm foundation of faith. She met Bob Buford, who encouraged her to write her book and catapulted her to start her ministry to "connect, lead and support professional women to reach their God-given potential."
"Try to find companies where your values and priorities align. And then try to find roles where your strengths align with that role." –Diane Paddison
What You Will Learn:
The importance of a mentor and how to find your own mentor

How to focus your goals in these three areas: professional, relational and spiritual goals

The keys to putting fear behind you and overcoming hardships

How to discern God's will for your life and reach your full potential

How to discover where your energy comes from and what you are passionate about
Resources:
Bio
Diane Paddison, 4word Founder and President, is a Harvard MBA graduate, former global executive of two Fortune 500 companies and one Fortune 1000 company, and serves as an independent director for two corporations and four not-for-profits.
But her life's passion is mentoring professional women.
The leading advocate for the professional Christian women community, Paddison published Work, Love, Pray in 2011 while laying the foundation for 4word. The book cast a vision for women of faith who represent a growing share of the fulltime workforce, yet are underserved in resources compared to the men around them. Featuring 15 women leaders who found personal and business success while keeping faith at their core, Work, Love, Pray affirms and challenges women who feel uniquely called to the workplace.
Diane's heart for encouraging professional women took root in her early in her commercial real estate career, an industry where few women held mid-level roles, and were virtually absent in senior leadership. Crossing lines of tradition, Diane approached the top company executive – a man – to express her professional goals and ask for mentoring. He agreed, and since then, Diane has been purposeful in supporting women around her with the lessons she learned.
Mentorship is a lifestyle: even when traveling to a regional office on business, she often reserves a lunch hour to gather women company-wide to foster relationships. She led the development of the CREW (Commercial Real Estate Women) "Bridging the C-Suite Gap" mentoring program, credited with the advancement of many participants to senior executive ranks since it launched.
Diane Paddison speaks on life/work balance, mentoring/sponsorship, and impactful leadership at events across the country. She authors weekly posts at 4wordwomen.org, and is a featured columnist for Today's Christian Women – a Christianity Today digital magazine. Diane serves on the board for the Harvard Business School Christian Fellowship Alumni Association. Diane and her husband, Chris, have four children and live in Dallas, Texas.
---
Tue, 28 April 2015
040 Bob Burg | Ultimate Success
Be A Go Giver
Click Here to the link to this episode and all the great resources

"Let's look at the leader who is very focused on bringing value to those he or she serves. They are looking not just to have a bunch of followers who are going to be lackeys who do what they say, they are looking to empower people." –Bob Burg
In this podcast, Bob shares the many valuable resources he has used to become an internationally acclaimed author, speaker and leader. He describes how he learned that, by shifting from an "I" focus to an "others" focus, he has achieved success in every aspect of his life.
"If someone believes their job is to go out there and make the sale, then it's all about them. If they believe their job is to go out and create the environment where that person willingly buys because they know it is in their best interest to do so, then it is all about the other person. And that's exactly where the focus should be." –Bob Burg
What You Will Learn:
What it means to be a "go-giver"

How to adapt others' wisdom into our lives yet still remain authentically ourselves

How consistently providing value to others is not only nice, but financially profitable

How to recognize if we are sabotaging our success with an unconscious belief that we are not worthy to receive, only give
Resources:
Bio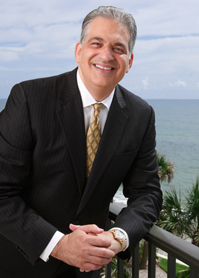 Bob Burg shares information on topics vital to the success of today's businessperson. He speaks for corporations and associations internationally, including fortune 500 companies, franchises, and numerous direct sales organizations.
Bob regularly addresses audiences ranging in size from 50 to 16,000 — sharing the platform with notables including today's top thought leaders, broadcast personalities, Olympic athletes and political leaders including a former United States President.
Although for years he was best known for his book Endless Referrals, over the past few years it's his business parable, The Go-Giver (coauthored with John David Mann) that has captured the imagination of his readers.
The Go-Giver shot to #6 on The Wall Street Journal's Business Bestsellers list just three weeks after its release and reached #9 on BusinessWeek. Since its release it has consistently stayed in the top 25 on Business Book Best Seller List. It's an international bestseller and has been translated into 21 languages. It is Bob's fourth book to sell over 250,000 copies.
Bob believes his newest book, Adversaries Into Allies: Win People Over Without Manipulation or Coercion is by far his most important work yet.
Drawing on his own experiences and the stories of other influential people, he offers five simple principles of what he calls Ultimate Influence™ — the ability to move people to your side in a way that leaves everyone feeling great about the outcome… and about themselves!
Bob is an advocate, supporter and defender of the Free Enterprise system, believing that the amount of money one makes is directly proportional to how many people they serve.
---
Thu, 23 April 2015
039 Eric Lind | Restoration & Redemption
This is the link to the blog post from the show, a transcript and the resources. http://www.eternalleadership.com/039
---
Tue, 21 April 2015
038 Becca Greenwood | Breaking Through Strongholds
For the full post and great resources CLICK HERE
"Where are we limiting ourselves? What are the lies that we have embraced because of our life circumstances or things that have happened that would keep us or hold us back from the fullness of identity that the Lord has for us?" –Rebecca Greenwood
From an early age, Rebecca Greenwood struggled with strongholds in her life: anger, depression and multiple fears. She feared authority figures, displeasing others, heights, the dark…even while she was a church youth leader and member of the worship team.
Through a process that she describes in this podcast, Rebecca learned how to break free from these strongholds through uncovering their root causes and allowing God to heal them. She shares how you can find freedom and lasting peace through this process, and help others to do the same.
"We will want in our personal lives to see God's kingdom extended wherever He has placed us…We can be totally bold and humble all at the same time."-Rebecca Greenwood
You will learn:
How to identify the areas in your life where you are limiting yourself
How to uncover your own strongholds and their root causes
How to replace the lies about yourself that you have been believing with truths about who you were really created to be
How to retrain and renew your mind
Rebecca is co-founder and president of Christian Harvest International and Strategic Prayer Action Network (SPAN).
From the time she was young girl, Rebecca felt a drawing of the Lord that she would be used by Him. Her mother used to tell Rebecca she was blessed and her father loved to sing a son entitled Far Away Places to she and her sister when they were small girls. Little did her parents know they were speaking her destiny into her heart and mind even from the time she was a young child.
In a prayer time in 1990 she felt a strong presence of the Spirit in which she was overcome. During this time the Lord showed her a vision of thousands and thousands of souls from many nations. He challenged her saying, Becca, will you be accountable for the souls I have assigned to you? Will you reach them for Me? Her heart captivated by this experience, she seriously responded to the mandate of the Lord to the nations. Since this Kingdom encounter, her passion has been seeing the lands of the world impacted for the Glory of God and reaching people with the gospel and setting the captive free. Her heart cry has become, Lord give me the nations. . As a result, prophecy, prophetic intercession, transformational spiritual warfare prayer, spiritual mapping, deliverance and teaching the word of God extensively in the many lands of the earth are the main thrusts of Christian Harvest.
Over the past 22 years, she has participated and led in spiritual warfare prayer journeys to 25 countries such as Egypt, Nepal, Italy, Turkey, Russia, Ukraine, Ireland, Spain, China, and to many cities and locations throughout the United States in which measurable breakthrough of transformation have been realized.
Having a heart for lost souls, Rebecca has seen many saved and set free. She ministers in transparency from her personal experiences of overcoming fear, depression and rebellion into freedom. She is committed to equipping in scriptural truths on how to live an overcoming life of purpose, fulfillment and destiny. And to equip people and churches to have a Jesus captivated and authoritative prayer life in which change and transformation are realized.
While she loves to travel the world and partner with the Lord in touching people's lives, Rebecca's favorite and most cherished times are with her husband Greg and their three beautiful daughters: Kendall, Rebecca and Katie. They reside in Colorado Springs, CO and are members of Freedom Church.
Rebecca has been a guest on TBN, Its Supernatural, God Knows and the Harvest Show. She has written for publications such as Charisma, Pray! Magazine and Spirit-Led Woman. She graduated with a Doctorate of Practical Ministry from Wagner Leadership Institute where she also serves as a core faculty member.
She is the author of six books:
• Authority to Tread: An Intercessors Guide to Strategic-Level Spiritual Warfare
• Breaking the Bonds of Evil: How to Set People Free from Demonic Oppression
• The Power of a Godly Mother (ebook)
• Destined to Rule: Spiritual Strategies for Advancing the Kingdom of God
• Let Our Children Go: Steps to Free Your Child from Evil Influence and Demonic Harassment
• Your Kingdom Come: Encouraged to Intercede
• And was invited to partner with C. Peter Wagner in contributing to an Understanding Spiritual Warfare: Four Views. An academic book discussing four theological views of spiritual warfare which will be used in seminaries throughout the United States.
---
Mon, 20 April 2015
Mini Episode | 5 Imperatives Of A Great Leader
Learn the characteristics of leadership that will equip the next generation and make you better
---
Thu, 16 April 2015
037 Lloyd Reeb | Success To Significance
The Keys To Creating An Impact That Outlives You!
Here is a link to this great interview: http://www.eternalleadership.com/037
"The biggest mistake successful men and women do at midlife, when they're on a quest for renewal, is that they jump to the solution too quickly. They don't take the time to get clear on who they are: their strengths, their passions and their calling. They jump to, "Where could I serve?" And they take board roles or they leave their platform in corporate America or sell their company, whether they're sure if they really need it or not." - Lloyd Reeb
Lloyd Reeb started his career as a successful real estate developer when he was only a teenager. He borrowed the money from his father to purchase his first piece of land, and paid him back with interest. Upon graduating from college, Lloyd began building subdivisions. He experienced great financial success through his thriving business. Eventually, however, some important questions began nagging him.
"But there was a point when I began to wonder, is this really all there is? Do I just continue to build buildings for the rest of my life and grow my net worth? Or is there some other purpose that I was put on this planet? Is there maybe something I'm missing? - Lloyd Reeb
In his book, "Success to Significance," Lloyd describes how to discover where your deepest passions intersect with your greatest abilities and harness them to help change the world. He unfolds a blueprint that has helped thousands of men and women redefine success and infuse their lives with eternal significance.
I think there are a lot of us that get caught into a sort of course in our career and in our pursuit of success without stopping and asking the question, "If my life turned out perfectly, what would the elements be?"
It's different than asking, "If my life were perfect you know, 5 years from now, what would it look like?" That's more of a tactical question. This was a long-term question. I spent a lot of time answering that one question. When I got clear on that, then it put my business in a different perspective.
What You Will Learn:
How to discover your strengths and your true calling
How to reorient your direction in life from success to significance
How to use your talents and resources in ways that produce something that outlasts you
How to find balance between the metrics in your life, such as performance, identity and relationships
Why bailing from corporate America or selling your company may NOT be the best strategy to pursue your purpose
---
Tue, 14 April 2015
036 Kevin Adams | How To Weather The Storms
This link will bring you to all of the great resources from the show http://www.eternalleadership.com/036
---
Mon, 13 April 2015
Mini Episode | The Power Of A Vision
---
Thu, 9 April 2015
035 Coaches Corner with Russell Verhey - Leadership Coach
The goal of coaching is to accelerate a leader's development. Coaching speeds learning time, enabling leaders to make significant leaps in learning and behavior change in a matter of months rather than years.
Our goal is to add value to you by addressing the questions you have submitted. Please comment below so we can include your question on the next episode!
Leadership and executive coach, Russell Verhey answers questions from our audience
As a leader I often feel lonely, how do I develop authentic relationships along the journey?

What does it take to cultivate a culture of trust with my team and peers, especially if I have been betrayed before?

How assess the level of trust in my organization?

How do I connect to my values and what is important to me?

What does it take to keep stress from allowing me to reach my full potential?
Resources
http://www.eternalleadership.com/035
---
Tue, 7 April 2015
034 Marilyn Tam | Finding Your Purpose
Finding Your Life Purpose
http://www.eternalleadership.com/034
Making A Difference Right Where You Are (or where you are now)
"When we have a purpose, we can endure almost anything. When we have the faith in something greater, what we have to go through is bearable because we are here for a reason." –Marilyn Tam
Marilyn Tam was born in Hong Kong into a Chinese family that did not want her because she was a girl. She was abused physically and verbally. She was told over and over again that she was worthless. She was given away to her aunt and uncle, who in turn gave her back when they had a child of their own. But her grandfather and her Heavenly Father had planted seeds of belief deep down in her soul. She chose to flip the negative messages she had been given from "I am worthless" to "I can do anything!" She changed her perspective from feeling sorry for herself to a life mission of helping others make their lives better.
Marilyn's determination and vision earned her highly impactful positions in the corporate world, such as President of Reebok Apparel Products and Retail Group and CEO of Aveda. She has authored the best-selling books "The Happiness Choice" and "Living the Life of Your Dreams," and she hosts the weekly radio show, "The Happiness Choice."
More importantly, however, Marilyn used these positions of influence to make great humanitarian impacts. She helped establish labor standards for para workers around the globe. She worked with the native South Americans who live along the Amazon to grow back indigenous plants previously destroyed during deforestation. She reaches countless listeners and readers every day, inspiring and mentoring them to make a difference in their worlds.
"I understood that I don't have to look for this big grandiose way of making a difference; I can make a difference wherever I am, whatever I am doing." –Marilyn Tam
What you will learn:
-How to evaluate the effectiveness of our reference points
-How to make our mission statement into an actionable point
-How to recognize your own life purpose
-How to reframe your situation when obstacles come your way
---
Wed, 1 April 2015
033 Michael Scott | Producer of the movie Do You Believe?
"The Cross brought us to our knees but should bring us to our feet as well!" - Michael Scott

Here is the link to this episode and great resources http://www.eternalleadership.com/033
This is an inspiring interview with Michael Scott who followed his passion, created a company around it and has made a significant impact on millions of lives. Michael shares the highs and lows of his journey and what he learned at each step that moved him forward and closer to God.
Michael was the producer of the hit movie of God's Not Dead. PureFlix just released their next movie that is one of the best movies I have seen in years. If you are reading this GO see this movie! It is outstanding. Bring a friend, a group, anyone that is a believer or not as their life will be impacted.
Here is a summary of the movie:
A dozen different souls—all moving in different directions, all longing for something more. As their lives unexpectedly intersect, they each are about to discover there is power in the Cross of Christ … even if they don't believe it. Yet.
When a local pastor is shaken to the core by the visible faith of an old street-corner preacher, he is reminded that true belief always requires action. His response ignites a faith-fueled journey that powerfully impacts everyone it touches in ways that only God could orchestrate.
This stirring new film from the creators of God's Not Dead is in theaters now. More than a movie, it's a question we all must answer in our lifetimes: DO YOU BELIEVE?
"I don't think we can do the greatest things until we take small steps. This could be as simple as coming to a movie like this with a friend that is lost or struggling." - Michael Scott
---