Thu, 11 June 2015
053 Dorie Clark | Develop A Breakthrough Idea
Click Here for the resources from our interview with Dorie
Stand Out And Live A Full Life

"It's part of your unique gift as a human being that you see things differently than other people and it's almost an obligation, one could argue, if you are going to live your life fully you need to step up and share your talents and share your vision!" - Dorie Clark
Would you like to make a bigger impact on the world? My friend Dorie Clark - who's a professor at Duke University's Fuqua School of Business, a contributor to Forbes and the Harvard Business Review, and a former presidential campaign spokeswoman – interviewed more than 50 top thought leaders to understand how they developed their breakthrough ideas and built a following around them.
In her new book Stand Out, she's distilled their wisdom down and created a framework so that regular men and women can follow those same principles to gain more career security, become respected in their company and in their field, and have a greater impact on the world. It's worth it for the great stories alone! If you have an idea or a business you'd like to see gain traction – or you know you'd like to develop one, but aren't quite sure yet what it is – this book is for you. You can order it here, and also download her free 42-page Stand Out self-assessment workbook. I hope you'll enjoy Dorie's work as much as I do!
What You Will Learn
How to make an impact right where you are! (Hint - you don't need to be rich & famous!!)
How to turbo charge your life no matter where you are!
That you don't need to be an expert to create an idea that creates huge impact
How to inspire others to listen and take action
How to identify that ONE idea that will set you apart
How to develop a following around your idea!
Resources
Bio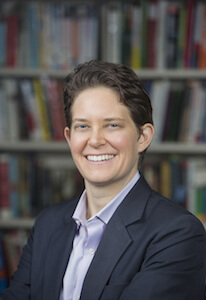 Dorie Clark is a marketing strategy consultant, professional speaker, and frequent contributor to the Harvard Business Review, TIME, Entrepreneur, and the World Economic Forum blog. Recognized as a "branding expert" by the Associated Press, Fortune, and Inc. magazine, she is the author of Reinventing You: Define Your Brand, Imagine Your Future (Harvard Business Review Press, 2013), which has been translated into Russian, Chinese, Arabic, French, Polish, and Thai. Her most recent book, Stand Out: How to Find Your Breakthrough Idea and Build a Following Around It, was released by Portfolio/Penguin in April 2015.
Clark consults and speaks for a diverse range of clients, including Google, the World Bank, Microsoft, Morgan Stanley, the Ford Foundation, the Bill & Melinda Gates Foundation, Yale University, the Mount Sinai Medical Center, and the National Park Service.
Clark, a former presidential campaign spokeswoman, is an adjunct professor of business administration at Duke University's Fuqua School of Business and a Visiting Professor for IE Business School in Madrid, Spain. She has taught marketing and communications at Tufts University, Suffolk University, Emerson College, HEC-Paris, Babson College, the University of North Carolina's Kenan-Flagler School of Business, and Smith College Executive Education. She has been named to the Huffington Post's "100 Must Follow on Twitter" list for 2013 and 2014, and to the #Nifty50 list of top women on Twitter. She was also named one of Inc. magazine's "100 Great Leadership Speakers for Your Next Conference," and recognized in Forbes as one of "25 Professional Networking Experts to Watch in 2015."
She has guest lectured at universities including Harvard Business School, the Harvard Kennedy School, Stanford University's Graduate School of Business, the University of Pennsylvania's Wharton School of Business, the University of California-Berkeley's Haas School of Business, Georgetown, NYU, the MIT Sloan School of Management, and the University of Michigan. Her work has been published in the Harvard Business Review Guide to Getting the Right Job and the Harvard Business Review Guide to Networking, and she is quoted frequently in the worldwide media, including NPR, the BBC, and MSNBC.
A former New England Press Association award-winning journalist, Clark is also the director of the environmental documentary film, The Work of 1000. She currently serves as co-chair of the Board of Visitors of Fenway Health and is a member of the Board of Overseers for the Massachusetts Society for the Prevention of Cruelty to Animals.
At age 14, Clark entered Mary Baldwin College's Program for the Exceptionally Gifted. At 18, she graduated Phi Beta Kappa from Smith College, and two years later received a Master of Theological Studies from Harvard Divinity School. Follow her on Twitter@dorieclark.
Why I Do What I Do
I grew up in a very small town in North Carolina – pre-Internet era – and felt incredibly frustrated with the lack of opportunities and like-minded people. I left home early to head to college, so I could get a jumpstart on doing the things I cared about, like getting a masters degree in theology and becoming a political reporter, presidential campaign spokesperson, nonprofit executive director, and documentary filmmaker.
In 2006, I launched my marketing strategy consulting business, and eventually started writing, speaking professionally, and teaching for business schools. I'm passionate about helping others take control of their professional lives and make an impact on the world, and have written two books – Reinventing You and the Stand Out – to help make that a reality.
If you'd like to stay in touch and receive my best material electronically, please feel free to join more than 14,000 people with impeccable taste and subscribe to her e-newsletter.
---