Thu, 9 July 2015
061 Brian Watson | Making A Difference Where You Are
Click Here for the resources from our interview with Brian Watson
The More You Give The More You Will Receive
Brain Watson grew up in the Western Slopes of Colorado loving anything to do with the outdoors. He came from a family of entrepreneurs and real estate construction was a part of that. When going to college, he chose real estate as his career path and after 7 years as a nationwide broker, he started his own company, North Star Commercial Partners.
He has always wanted to make an impact and communicate with individuals that may not normally know about faith, and that is what North Star has allowed him to do.
"When I was young, my parents told me that, "You're a blessed person if you can have an impact in one life. And you might be fortunate to have an impact in many lives, thousands of lives, but focus on the one."" –Brian Watson
With North Star he is able to buy vacant real estate and create jobs and opportunities for people. He has always had the philosophy that the more you give across the table, the more you will receive. He is a part of many non-profits and has started his own foundation in order to do just that.
"I think giving, like anything in life, is a learned trait." -Brian Watson
You Will Learn
How to make a positive impact in the community you are in, in the lives you are touching right now

How to have a life well lived

How to apply your business skills to give your time and treasure to non-profits

How to equip the current and next generation of leaders

How to give from a cheerful place

The process of giving

How to bring your faith and your heart into day to day interactions
Resources
Bio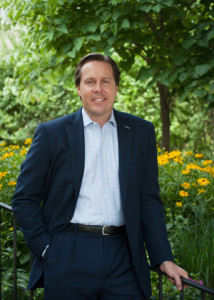 Brian Watson is the Founder and CEO of the privately held commercial real estate investment organization, Northstar Commercial Partners.
After graduating from Olathe High School on the Western Slope of Colorado, Mr. Watson received a Bachelor of Science degree in Real Estate from the University of Colorado at Boulder. Mr. Watson then joined Cushman & Wakefield of Colorado, Inc. (C&W), an international commercial real estate firm. During his seven-year tenure at this firm, Mr. Watson had the distinction of being the youngest broker in company history to qualify for a Directorship title, which was a direct result of his consistent high production and comprehensive understanding of commercial real estate. Though Mr. Watson performed tenant representation, he primarily focused on landlord representation for the majority of his career at C&W. He represented clients such as Lend Lease Real Estate, CarrAmerica Realty LP, P&O Investments/Denver Technological Center, Mission Viejo Companies, Shea Properties, Terrabrook, ERE/Yarmouth and acted as agent for two major Colorado office parks, Highlands Ranch and Stonegate. Mr. Watson also received C&W's prestigious Service Excellence Award for his superior ability to handle complex, high value transactions. Mr. Watson's extensive education and experience in the real estate industry has been instrumental to the success of Northstar Commercial Partners.
Mr. Watson has positioned Northstar as one of the primary acquirers of vacant and/or value-add properties in markets throughout the United States. The company focuses on buying these assets from lenders, corporations, and other owners, improving these assets and placing them back into productivity to create jobs and opportunities in their local communities.
Mr. Watson currently serves as the President of the Leadership Program of the Rockies 2015 Class; a Board Member of the Colorado Commission on Family Medicine for the 6th Congressional District of Colorado appointed by the Governor of Colorado; a Leadership Council Member for the Colorado NFIB (National Federation of Independent Business); a member of The Leadership Program of the Rockies Class of 2015; a member of The Colorado Association of Commerce and Industry (CACI), which is the Colorado State Chamber of Commerce; and a member of the Chairman's Roundtable while serving on the Energy and Environment Council and the Governmental Affairs Council; an A-List Member of CXO (a private collaborative executive organization of influence that connects C-level executives and owners of companies throughout the world); and is Founder and CEO of the Opportunity Coalition, which promotes collaboration among the people of Colorado and new business startups to create quality jobs throughout Colorado. Mr. Watson has also served as a Board Member and active supporter of TAPS (the Tragedy Assistance Program for Survivors) for those who have lost loved ones in U.S. Military Service; the Chairman of the Finance Committee for the Colorado Republican Party; a Member of the Board of Governors and President's Council for Opportunity International (one of the world's largest microfinance lenders providing loans to individual entrepreneurs in the developing world); an Executive Committee Member of the International Board of Directors for Mercy Ships (the world's largest non-profit medical hospital on a traveling ship, which performs over 60,000 annual life changing surgeries for free in Africa); a Republican delegate for his County, Congressional, and State political assemblies; a Board Member and President of Brokers Benefiting Kids (a Denver based non-profit that raises financial support for multiple children's charities in Colorado); a Member of the Metro Denver Executive Club; a Member of the Legacy Political organization; a Member of the Citywide Banks Advisory Board; a Member of the Republican Business Advisory Council; Chairman of the Advisory Board for the Alliance for Choice in Education (ACE Scholarships - a Denver based non-profit that provides educational scholarships and school choice programs for low-income kids grades K-12); Chairman of The Board of Directors and a mentor for Save Our Youth (a Denver-based inner city youth mentoring program); and a Member and President of the Downtowner's Toastmasters Club.
Mr. Watson is a supporter of his local Christian church, resides in Greenwood Village, Colorado with his wife and two children, and has another child in college. He is passionate about creating opportunity for all citizens of Colorado and the United States, and works to enhance the business, political, and educational environments in each.
---