Fri, 13 February 2015
019 Dean Niewolny | CEO of Halftime - Find your Passion, Find your Calling
To get a copy of the bestselling book Halftime for free go to http://www.eternalleadership.com/halftime
"The appetite for significance is at an all time high, yet most people have no idea where or how to identify their gifts and talent—and to connect to their passions. And that's my love for Halftime. Nothing satisfies more than to help a man or woman say, 'This is what God has for me to do.'" — Dean Niewolny, Halftime Institute CEO
You are probably going to live a whole adult lifetime that wasn't available to your parents and grandparents.
Their life expectancy at birth was 50 years. We have two lifetimes now. Life I is what occurs before halftime, and Life II comes afterwards. Most people have a pretty good plan for Life I, but few can see their way forward into Life II.
Halftime is the in-between season that occurs at about age 45, plus or minus a few years. It's the time first described in the book, Halftime – the season of "now what?" In our time, halftime really marks the end of Life I and the beginning of this whole new second adult season that we've identified as Life II or the second half. Halftime used to be the beginning of the end. Now it is the beginning of a whole new beginning: a season that for many has turned out to be the richest and most meaning-filled season of all.
Peter Drucker once told Bob Buford, "The strongest insight you had in Halftime was that there is more than one lifetime."
Life II takes most people by surprise. Most people are unprepared and they are searching for meaning in mid-life.
The Halftime Institute is the leading authority on creating a second half defined by joy, impact and balance. We've served thousands of men and women from varied backgrounds. We also serve organizations like Kingdom Advisors, Young Presidents Organization (YPO) and World Presidents Organization (WPO).
"God has a plan for each and every one of us and He wants us to live in this sweet spot." - Dean Niewolny
You will learn
How to find your passion

How to find your Ephesians 2:10 calling

The steps to discover how God wired you and the incredible potential that unlocks
How to find perfect clarity on the life you want to create for yourself
How God sees success and what that means for you
Resources
Checkout Dean's Articles:
Halftime Institute
We are excited to announce that we have partnered with the Halftime Institute!
If you are at the place where you would like to move from success to significance click here to get a copy of this book for free.
This book is one of the most transformational books I have ever read - John Ramstead
Video Library about Halftime
Halftime Mission & Vision
Become a member of Halftime
Bio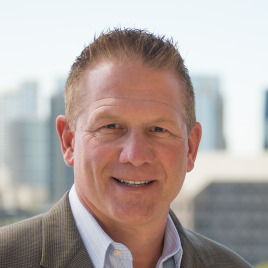 Dean Niewolny spent 23 years in executive roles with three of Wall Street's largest financial firms, finishing his career in the financial sector as market manager for Wells Fargo Advisors in Chicago, where he oversaw a $100mm market. While in Chicago, he and his wife, Lisa, traveled many times to Africa and, seeing the abject needs of widows and orphans, made life changes that enabled them to get involved, such as helping to complete an orphan home and a Hospice home in Durbin, South Africa.
In 2010, Dean traded his marketplace career for Halftime to help more people who, like him, wanted to expand their own "first half" success and skills into passion and purpose for meeting human needs and making a significant difference. Dean joined Halftime as managing director and in 2011 became chief executive officer. He speaks at events around the world, encouraging business leaders to channel first-half achievement into a second half defined by joy, impact and balance.
Having grown up playing sports—eventually in college and semi-professional baseball—Dean still enjoys coaching youth sports, especially his son's little league teams. He and Lisa have two children and live in Southlake, Texas.
---