Tue, 24 February 2015
022 Daniel Henderson | The Deeper Life
http://www.strategicrenewal.com/
Satisfying The 8 Vital Longings of Your Soul
We often think of living a deeper life. In this incredible interview with Daniel Henderson, author of The Deeper Life, he shares how to truly discover the answers to life's core questions and live them out in your thoughts, words, and actions. This is a book that needs to be on your must read list!
"So many of us base our identity on things that change. The one thing that never changes is the rock-solid truth of who God is and what he says to be true about him." - Daniel Henderson
An acclaimed teacher on spiritual renewal, Daniel Henderson shares the principles and practices that are vital to a transformed life. He explains the longings that resonate in our souls--longings such as wanting to know God more fully, to know ourselves better, to spend our time on things that matter--and shows how to systematically apply them to daily decisions and even long-term goals. As countless believers have already discovered, this gospel-oriented, Spirit-empowered approach will touch every part of your life and change the trajectory of your journey.
Be known as a person of relevant faith . . .
Escape the fog of daily distractions . . .
Live a more intentional, integrated life!
You Will Learn
Daniel shares questions that really matter and will help satisfy the ultimate longings of the soul to know God and live an eternally significant life.
The 8 Vital Longings of Your Soul
Who is God? (Theology)
Who Am I? (Identity)
Why Am I Here? (Purpose)
What Really Matters? (Values)
What Should I Do? (Priorities)
How Should I Do It? (Goals)
When Should I Do It? (Time)
How Will I Finish? (Legacy)
Resources
Mission - We exist to ignite the heart of the Church through personal renewal, congregational revival and leadership restoration for the glory of Jesus Christ.

The Deeper Life Group Study
Bio
As a Senior Pastor for over two decades, Daniel Henderson brought prayer-based revitalization to several mega-churches. Today he is dedicating his full-time efforts to help congregations across the country experience renewal and turn-around as he speaks to thousands each year at conferences and prayer events. He is President of Strategic Renewal, which exists to ignite personal renewal, congregational revival, and leadership restoration for Christ's glory.
Daniel Henderson is a pastor, preacher, renewal catalyst, leadership coach, author, husband, father, grandfather and (most importantly) a passionate Christ-follower. He was born and raised in Albuquerque, New Mexico and received his academic degrees from Liberty University and Liberty Baptist Theological Seminary in Lynchburg, Virginia. He loves the Lord, his wife, his children, and the local church with a passion.
After spending 25 years in rewarding full-time pastoral ministry, Daniel is now giving more of his full-time efforts to Strategic Renewal. He also serves part-time as the Pastor of Prayer at Mission Hills Church in Littleton, CO and as an adjunct professor at Liberty University in the areas of prayer and pastoral leadership. He has most recently been Senior Pastor of Grace Church in Eden Prairie, Minnesota for three and a half years, and Senior Pastor at Arcade Church in Sacramento, California for 11 years prior to that, where a profound movement of congregational prayer was birthed. He has also served as Senior Pastor of Los Gatos Christian Church in the San Jose area for four years. His pastoral and leadership experience also includes ministry as Associate Pastor to Dr. John MacArthur at Grace Community Church in Sun Valley, California and church planting in the Pacific Northwest.
Daniel's first book, The 7 Most Important Questions You'll Ever Answer, was translated into 12 languages and has been recently re-released by Baker Publishing under the new title The Deeper Life - Satisfying the 8 Vital Longings of the Soul. In 2004, Fresh Encounters was released, focusing on Daniel's journey in the area of worship-based prayer. His more recent books include Think Before You Look: Avoiding the Consequences of Secret Temptation (2005), PRAYzing! Creative Prayer Experiences from A to Z (2007),The 29:59 Plan - Revisioned (2008, with Peter Lord), The Church That Prays Together: Inside the Prayer Life of 10 Dynamic Churches (2008, with Elmer Towns), and Transforming Prayer - How Everything Changes When You Seek God's Face (2011). He also served as a contributing writer to Innovate Church: 8 Innovative Ways to Lead and Grow the Church(2008) and Giving Ourselves to Prayer: An Acts 6:4 Primer for Ministry (2008).
Daniel's articles have appeared in publications like Leadership Journal, Pray! Magazine, and ChurchLeaders.com.
Daniel has been married to Rosemary (Brewer) for over 33 years and they live just south of Denver, Colorado. Together they have raised their three children, Justin, Jordan, and Heather Rose. They are the grandparents of Annie Renee', Taylor Grace, Norah Jane and James Eagle.
Fun Facts:
Life Verse: Generally 2 Corinthians 5:9. Most recently Galatians 1:24

Most Interesting Place Ever Lived: Elephant Butte Lake, New Mexico (just outside the booming metropolis of Truth or Consequences)

Most Interesting Places Ever Visited:

Fordell Castle; Scotland (historic home of the Henderson Clan)

The Holy Land

Petra, Jordan

Bali, Indonesia

Singapore

The Catacombs

Ministry Passion: Pastor-led, local-church oriented movements of Christ-exalting, worship-based prayer, leading to full-scale revival, supernatural evangelism, and cultural transformation.

Key goals for the future:

To enjoy the rest of his life with his (one-and-only) wife of his youth

To support the dreams God places in the hearts of his children

To continue to write articles and books

To travel extensively in his later years, ministering to missionaries and pastors

Travel experience: 42 countries (ministering in 29), 49 states (Alaska is still to be conquered)

Most Embarrassing Moment: Wouldn't you like to know???

Affliations:

Strategic Renewal - Founder, President

The 6:4 Fellowship - National Director

Mission Hills Church (Littleton, CO) - Pastor of Prayer

Liberty University - Adj. Professor of Renewal and Church Leadership

The National Association of Evangelicals - Board Member

Spirit FM Radio - Chaplain

National Prayer Committee Member

The Power Team - Pastoral Advisor
---
Fri, 20 February 2015
021 Dennis Trittin | Raising Up Next Gen Leaders
Building A New Generation of Inspired Leaders
We are facing an epic leadership and life skills crisis in our younger generation with every area of society playing a role.

Dennis Trittin will share how we as:
Parents

Educators

Employers

Mentors

Faith leaders
Can reverse this course to build a new generation of inspired leaders.
Dennis founded LifeSmart Publishing with the mission to inspire, equip, and empower the next generation to pursue lives of purpose, integrity, and impact.
His vision is that every child would be inspired and equipped to reach his or her full potential and positively impact the world.
Our society today is producing a generation of young adults largely unprepared to negotiate life, develop and maintain healthy life-long relationships, demonstrate honorable and effective leadership, build stable households, and succeed in an increasingly competitive workforce. Testimonials from school counselors and employers confirm we have a life skills crisis on our hands. In this episode Dennis shares the meaningful work he is doing to address each of these issues
In this episode you will learn:
What life skills are essential to teach the next generation

Practical strategies to develop leadership skills for millennials

How to build positive relationship capital with teens

A simple idea that will change our culture
Resources
Bio
Dennis is a successful author, publisher, educator, speaker, and money manager committed to helping young people reach their full potential. As founder and CEO of LifeSmart Publishing and the author of What I Wish I Knew at 18: Life Lessons for the Road Ahead and co-author of Parenting for the Launch: Raising Teens to Succeed in the Real World, Dennis combines his world-class leadership experience with passionate advocacy for the next generation. With acclaimed resources and speaking engagements on the topics of leadership, life skills, and parenting, Dennis inspires and equips young people and the adults and institutions guiding them.
Prior to his encore career, Dennis was a senior executive for 28 years with Russell Investments. As Director of Research and Strategy, Dennis evaluated thousands of investment leaders worldwide, giving him a unique perspective to share the strategies and practices of successful people. He also helped grow the firm's assets from $1 billion to $220 billion through portfolio management and sales support.
Dennis has also served as board chair and life skills instructor at an area private school and as a deacon at his church. He is a regular advisor to a number of non-profit organizations and is a passionate advocate of the Pinnacle Forum!
Dennis holds a B.B.A. degree from the University of Wisconsin and an M.B.A. from the University of Washington, where he was Valedictorian. He also is a Chartered Financial Analyst.
Dennis and Jeanne, his wife of 32 years, have two grown children and make their home in Gig Harbor, Washington. In addition to family management and volunteer causes, Dennis enjoys golf, the company of friends, following the markets, writing, traveling, and visiting their condo in Door County, Wisconsin. He's also an avid Seahawks and Packers fan!
---
Tue, 17 February 2015
020 Mark Sanborn | The Most Important Question
What it Takes to Be Extraordinary in All You Do
We often accomplish more by doing less. Activity is the anesthesia of the modern person. When we stay insanely busy we think we are accomplishing something but we are just staying insanely busy. Ask yourself, what's important and am I accomplishing it!
"We all have same number of hours and minutes in a day. It's what we do with those that determine if we have an ordinary or extraordinary life." - Mark Sanborn
Mark Sanborn was recently named to the Top Leadership Experts to Follow in 2015. His best selling book The Fred Factor: How Passion in Your Work and Life Can Turn the Ordinary into the Extraordinary reveals a clear path to an extraordinary life
How do you define extraordinary? It is something that stands out. Ordinary is unremarkable. We don't remember the ordinary. Sameness is a bad business and life strategy.
Savor what you are able to create and do. Mark explains that we are in one of three places in our lives
Stuck

Struggling

Successful – We run the risk of becoming stuck, just stuck at a higher level.
When stuck you need a push and a plan. You need to do the work yourselves but we can encourage others and find encouragement for ourselves.
Your plan should define what success looks like but we often lack clarity on the outcome we want. We assume that people without clarity haven't taken time to define what they want. It could be the case that you just don't know what you want. You might need to do more things, try more things and it would give you perspective.
Don't get into a state where you don't move forward until you have perfect clarity.
Sometimes people are afraid to aspire to more. Successful people are not afraid to aspire higher. It's about aiming a little higher so you get more than you would have gotten.
Live life fully! Try a lot of things and be intentional about what success looks like.
Resources
Leadership resources from Mark Sanborn
Bio
Leadership Speaker Mark Sanborn
Developing Leaders in Business and in Life
Mark Sanborn, CSP, CPAE, is president of Sanborn & Associates, Inc., an idea studio dedicated to developing leaders in business and in life. Mark is an international bestselling author and noted expert on leadership, team building, customer service and change.
Mark Sanborn graduated cum laude from The Ohio State University. In addition to his work as a business educator and author, Mark continues to be an active leadership practitioner. Most recently he served as the president of the National Speakers Association.
Mark holds the Certified Speaking Professional designation from the National Speakers Association (NSA) and is a member of the Speaker Hall of Fame. He was recently honored with the Cavett Award, the highest honor the NSA bestows on its members, in recognition of his outstanding contributions to the speaking profession. Mark is also a member of the exclusive Speakers Roundtable, made up of 20 of the top speakers in America.
Mark is the author of eight books, including the bestseller The Fred Factor: How Passion In Your Work and Life Can Turn the Ordinary Into the Extraordinary which has sold more than 1.6 million copies internationally. His other books include You Don't Need a Title to be a Leader: How Anyone, Anywhere Can Make a Positive Difference, Teambuilt: Making Teamwork Work, The Encore Effect: How to Achieve Remarkable Performance in Anything You Do and his most recent book, Up, Down or Sideways: How to Succeed When Times are Good, Bad or In Between. His latest book is Fred 2.0: New Ideas on How to Keep Delivering Extraordinary Results which was released March 2013.

He has created and appeared in 20 videos and numerous audio training programs. His video series Team Building: How to Motivate and Manage People made it to the #2 spot for bestselling educational video series in the U.S.
Mark's list of over 2400 clients includes Costco, Enterprise Rent-a-Car, FedEx, Harley-Davidson, Hewlett Packard, Cisco, KPMG, Morton's of Chicago, New York Life, RE/MAX, ServiceMaster, ESPN, GM, IBM, Avnet, Sandvik and John Deere.
"We each know how good we have become," Mark says, "but none of us knows how good we can be. One of the most exciting opportunities we get each day is to pursue our potential." Mark Sanborn challenges his audiences with this message and provides insights for extraordinary living.
---
Fri, 13 February 2015
019 Dean Niewolny | CEO of Halftime - Find your Passion, Find your Calling
To get a copy of the bestselling book Halftime for free go to http://www.eternalleadership.com/halftime
"The appetite for significance is at an all time high, yet most people have no idea where or how to identify their gifts and talent—and to connect to their passions. And that's my love for Halftime. Nothing satisfies more than to help a man or woman say, 'This is what God has for me to do.'" — Dean Niewolny, Halftime Institute CEO
You are probably going to live a whole adult lifetime that wasn't available to your parents and grandparents.
Their life expectancy at birth was 50 years. We have two lifetimes now. Life I is what occurs before halftime, and Life II comes afterwards. Most people have a pretty good plan for Life I, but few can see their way forward into Life II.
Halftime is the in-between season that occurs at about age 45, plus or minus a few years. It's the time first described in the book, Halftime – the season of "now what?" In our time, halftime really marks the end of Life I and the beginning of this whole new second adult season that we've identified as Life II or the second half. Halftime used to be the beginning of the end. Now it is the beginning of a whole new beginning: a season that for many has turned out to be the richest and most meaning-filled season of all.
Peter Drucker once told Bob Buford, "The strongest insight you had in Halftime was that there is more than one lifetime."
Life II takes most people by surprise. Most people are unprepared and they are searching for meaning in mid-life.
The Halftime Institute is the leading authority on creating a second half defined by joy, impact and balance. We've served thousands of men and women from varied backgrounds. We also serve organizations like Kingdom Advisors, Young Presidents Organization (YPO) and World Presidents Organization (WPO).
"God has a plan for each and every one of us and He wants us to live in this sweet spot." - Dean Niewolny
You will learn
How to find your passion

How to find your Ephesians 2:10 calling

The steps to discover how God wired you and the incredible potential that unlocks
How to find perfect clarity on the life you want to create for yourself
How God sees success and what that means for you
Resources
Checkout Dean's Articles:
Halftime Institute
We are excited to announce that we have partnered with the Halftime Institute!
If you are at the place where you would like to move from success to significance click here to get a copy of this book for free.
This book is one of the most transformational books I have ever read - John Ramstead
Video Library about Halftime
Halftime Mission & Vision
Become a member of Halftime
Bio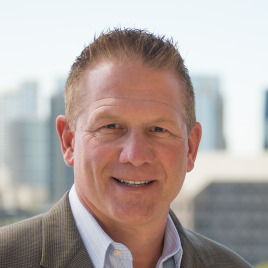 Dean Niewolny spent 23 years in executive roles with three of Wall Street's largest financial firms, finishing his career in the financial sector as market manager for Wells Fargo Advisors in Chicago, where he oversaw a $100mm market. While in Chicago, he and his wife, Lisa, traveled many times to Africa and, seeing the abject needs of widows and orphans, made life changes that enabled them to get involved, such as helping to complete an orphan home and a Hospice home in Durbin, South Africa.
In 2010, Dean traded his marketplace career for Halftime to help more people who, like him, wanted to expand their own "first half" success and skills into passion and purpose for meeting human needs and making a significant difference. Dean joined Halftime as managing director and in 2011 became chief executive officer. He speaks at events around the world, encouraging business leaders to channel first-half achievement into a second half defined by joy, impact and balance.
Having grown up playing sports—eventually in college and semi-professional baseball—Dean still enjoys coaching youth sports, especially his son's little league teams. He and Lisa have two children and live in Southlake, Texas.
---
Tue, 10 February 2015
018 Coaches Corner with Stephen McGhee - Executive Coach
---
Thu, 5 February 2015
017 Jerry Anderson | Principles That Create Global Influence
"It's amazing how the human mind works. If you think you can, you can. If you think you can't, you can't. You've got to be careful what you put in your mind, because you'll soon be there." –Jerry Anderson
In this episode, Jerry Anderson shares how he discovered the key to turning multiple business failures into phenomenal success was this: character development. He changed his mentality with clients from "I hope they buy" to "I need to help them be successful." He adds, "Sometimes I cared about their business more than they did!"
Jerry saw immediate results from his change in perspective and he realized that he could help others achieve the same results in their lives. He started round table groups to mentor businesspeople in the areas of character and values. His teaching spread to other parts of the world; suddenly, he was helping transform governments and cultures! Jerry can help you start your own round table group, or change the values and attitudes in your workplace or business. He has even started to bring these values-based programs to schools; grades have gone up and bullying has dramatically decreased.
"When I'm doing the right things, the right things happen and I don't have to create them. I just show up." –Jerry Anderson
You will learn
How to develop your own character to transform your business
How to discern what should and should not be going into your brain
How to be open and available for incredible opportunities
How to bring positive values back to your own sphere of influence
Resources
http://LaRed.org
http://Globalpriority.org
http://Antivirusyouth.info
---
Wed, 28 January 2015
016 Judy Robinett | How to Be a Power Connector
There is deep value in creating meaningful relationships.


It is through building relationships that we can truly be servant leaders and add value to others. Our guest Judy Robinett shares how she went from a shy small-town girl to the pinnacles of the business world by doing just that. Judy shares practical steps on what it means to give before you get!
Judy Robinett shares how to build a network based on serving others. This is a critical factor for success in business, ministry and in life.
She grew up in a small town in Idaho of less than 300 people, so she has had to put in the time, effort and energy to build her network. In addition, Judy had to overcome her shyness and emotional scars from years of being bullied in school. Judy shares the turning point that created a shift in how she viewed relationships that changed the trajectory of her life.
The key is knowing the value of relationships and how to connect with people to build and solidify those relationships. She says it boils down to a few things; one of those is being in the right room. You have to connect and bond with people who share your same values and passions and are willing to help; and you have to know the right rooms to find them in.
Regardless of where you are in your life, Judy says we all have the following to offer others:
Your ability to listen and be a friend.

Your willingness to put aside your own troubles and give them the gift of your time. Just talking it over with a trusted friend, solutions can be found to many problems.

Listening to someone allows them to know, like and trust you. And when someone knows you and likes you and trusts you, they are far more likely to help you with your problems and to connect you with their sphere of influence.
What you will Learn
A Biblical model for networking

How to find and connect with the people you need in your network

The three golden questions and when to ask them – These are powerful!

How to be authentic in asking your network for help

What it takes to leverage your network to add value to others
Resources
How To Be a Power Connector, by Judy Robinett
Bio

Judy Robinett is the author of How to Be a Power Connector: The 5+50+150 Rule (McGraw-Hill, May 2014), a book that provides instant, effective strategies for meeting the people you need to know and bonding with them fast to further your goals and theirs. Robinett is a business thought leader who is known as "the woman with the titanium digital Rolodex." She has been profiled in Fast Company, Forbes, Venture Beat, Huffington Post, and Bloomberg Businessweek as a sterling example of the new breed of "super connectors" who use their experience and networks to accelerate growth and enhance profitability.
In her more than 30 years of experience as an entrepreneur and corporate leader, Robinett has served as the CEO of both public and private companies and in management positions at Fortune 500 companies. She has been on the advisory boards of Illuminate Ventures, an early-stage venture capital firm based in Menlo Park, California; Pereg Ventures, a venture capital firm based in New York; Springboard Enterprises based in Washington, DC; and Women Innovate Mobile (WIM) accelerators based in New York.
She was a managing director of Golden Seeds Angel Network (the third most active angel investment group and one of the largest in the U.S.); the CEO of publicly traded Medical Discoveries; and she served on the faculty of Goldman Sachs's 10,000 Small Businesses program.
She was a member of the Department of Commerce team that defined performance criteria for the Malcolm Baldrige National Quality Award for Performance Excellence in Healthcare, for which she received an award from President Bill Clinton.
Robinett has given hundreds of speeches worldwide for audiences at MIT, BIO, BIO-Europe, CalPoly, AT&T, Westinghouse, and the Department of Energy.
She is the coauthor of a chapter in Crowdfunding for Dummies by Sherwood Neiss, Jason W. Best, and Zak Cassady-Dorion (Wiley, 2013).
---
Thu, 22 January 2015
015 Ford Taylor - Transformational Leadership
---
Fri, 16 January 2015
014 Coaches Corner with Michael Pfau - Leadership Coach
---
Fri, 9 January 2015
013 Jeff Spadafora - From Smoldering Discontent to Lasting Joy!
A Halftime Journey From Success to Significance
"There was this giant dissonance between the life I was living, which was joyless, and this pathway of joy so clearly outlined in the Bible. And I said, "How am I going to bridge this gap? How am I going to reconcile this?"-Jeff Spadafora
So many people "have been brainwashed into thinking that the key to happiness is to make as much money as you can as fast as you can," begins Jeff Spadafora in this inspiring and enlightening message of how to integrate your career with your God-given gifts and purpose.
He relates how we mistakenly tend toward a "binary vision" of thinking that we can only choose the marketplace or the mission field, when in fact there are multiple ways that we can remain in our current platform and still be fully obedient to God's plan for us. We can "bloom" right where we are currently planted!
"Live an integrated life, where your Tuesday afternoon board meeting self is the exact same self as on Sunday morning at 10 a.m. when you're tearing up hearing the Gospel." –Jeff Spadafora
You will learn
How to determine God's plan for your life

How to become self-aware through your skills and passions

How to "unlearn" the expectations others have placed on you

How to have the courage to become who you were created to be

How to experience real and lasting joy and peace!
Resources
Checkout Jeff's Articles:
Halftime Institute
We are excited to announce that we have partnered with the Halftime Institute!
If you are at the place where you would like to move from success to significance click here to get a copy of this book for free.
This book is one of the most transformational books I have ever read - John Ramstead
Bio

Jeff Spadafora is the Director of Global Coaching Services and Product Development for The Halftime Institute.
He spent 20 years as a leadership and executive development consultant for Fortune 1000 companies such as Ford Motor Company, Sears & Roebuck, Compuware, Domino's Pizza, Visteon, Northern Trust Bank, Helene Curtis, and Sky Chefs.In 2005, Jeff was inspired by Bob Buford's book Halftime and began his journey of discovering God's true purpose for his second half. As he worked with his Halftime coach, it became clear that his calling is to help other people discover their calling.
He has coached over 130 men and women through the Halftime Journey and continues to make this a primary part of his ministry. As the leader of The Halftime Institute's global coaching staff, he is also responsible for recruiting, training, and managing Halftime Certified coaches throughout the world.
In addition to being the lead designer of the Halftime curriculum and one of the primary facilitators of workshops for groups of people embarking on the Halftime journey, Jeff also writes and speaks globally about the issues of life purpose, joy, and kingdom impact.
He lives in Evergreen Colorado with his wife Michelle and 3 teenage children. He enjoys fishing, hunting, skiing, mountain biking and everything else the great outdoors of Colorado has to offer.
"Too many people focus the better part of their lives on the wrong things: the company's agenda, other peoples' ideas of success . . . money. Over time, this leads to frustration and emptiness. True freedom comes as a people discover their God-given design and pour themselves into service for others." –Jeff Spadafora
---